Applications
Addressing Various Coating Methods
Episode04
We have enabled uniform coating of semiconductor wafers by taking advantage of a liquid material.
We offer optimal solutions for various applications including enlarged substrates and complicated coating surfaces, besides wafer.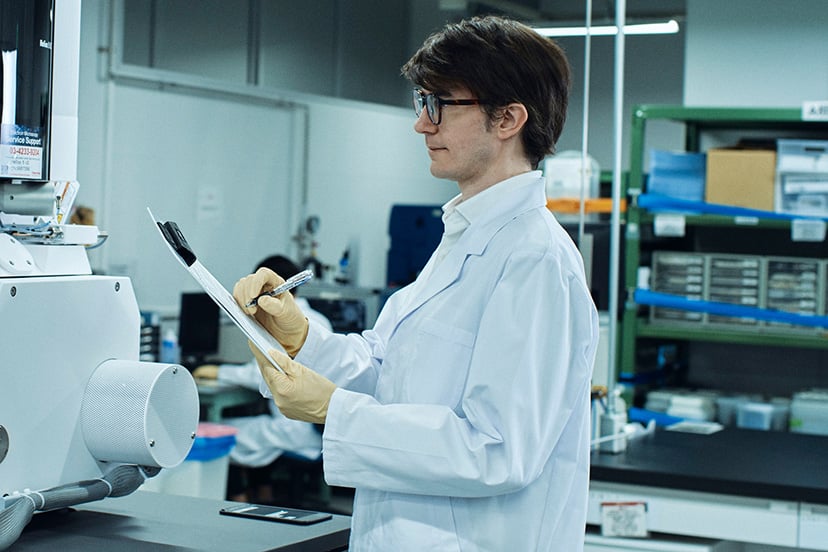 0103
Enabling Uniform Coating of Semiconductor Wafers
What we produce is a highly pure liquid polyimide precursor. For semiconductor wafer processing, which requires a high level of precision, we have been taking advantage of the liquid nature of this precursor to perform "spin coating," which involves rotating highly pure liquid polyimide at a high speed to perform uniform coating of a round semiconductor wafer.

0203
Exploring Optimal Methods Based on Accumulated Expertise
At the front lines of electronic device production and semiconductor development, various coating methods such as "slit coating" and "spray coating" have been established. Besides wafers, such methods are applicable to enlarged substrates and complicated coating surfaces, among others.
Along with the spin coating technology that we are pursuing, we are also making research and development efforts to identify optimal methods based on our expertise in slit coating-based processes and spray coating.
0303
Offering Solutions as a Specialized Manufacturer
As a specialized manufacturer, we have the advantage of an extensive product portfolio and technological strength. This enables us to propose products promising high yields and reliability as well as optimal film formation methods for various applications, and to thereby offer solutions that will work well with peripheral materials and processes. To bolster further progress in the production processes used to make electronic devices and semiconductors, we deploy our strengths as a polyimide-specialized manufacturer to make dedicated efforts to develop a variety of precision solutions.